Nkomati, South Africa
Nkomati is a joint venture between Nornickel (50% interest) and African Rainbow Minerals. Nkomati's performance is reflected in Nornickel's financial results using proportional consolidation, based on our stake.
Nkomati is located in the Mpumalanga Province, South Africa, 300 km east of Johannesburg.
It is the only South African company to produce nickel concentrate, which also contains copper, cobalt, and PGMs. Nkomati produces chrome concentrate as well.
Mining
The Nkomati deposit has a substantial resource base represented by disseminated copper-nickel sulphide ores. The deposit consists of several ore bodies. The major ones are a solid sulphide ore body with a high nickel content and a peridotite chromite mineralisation zone with a relatively lower nickel content and a relatively higher chrome content.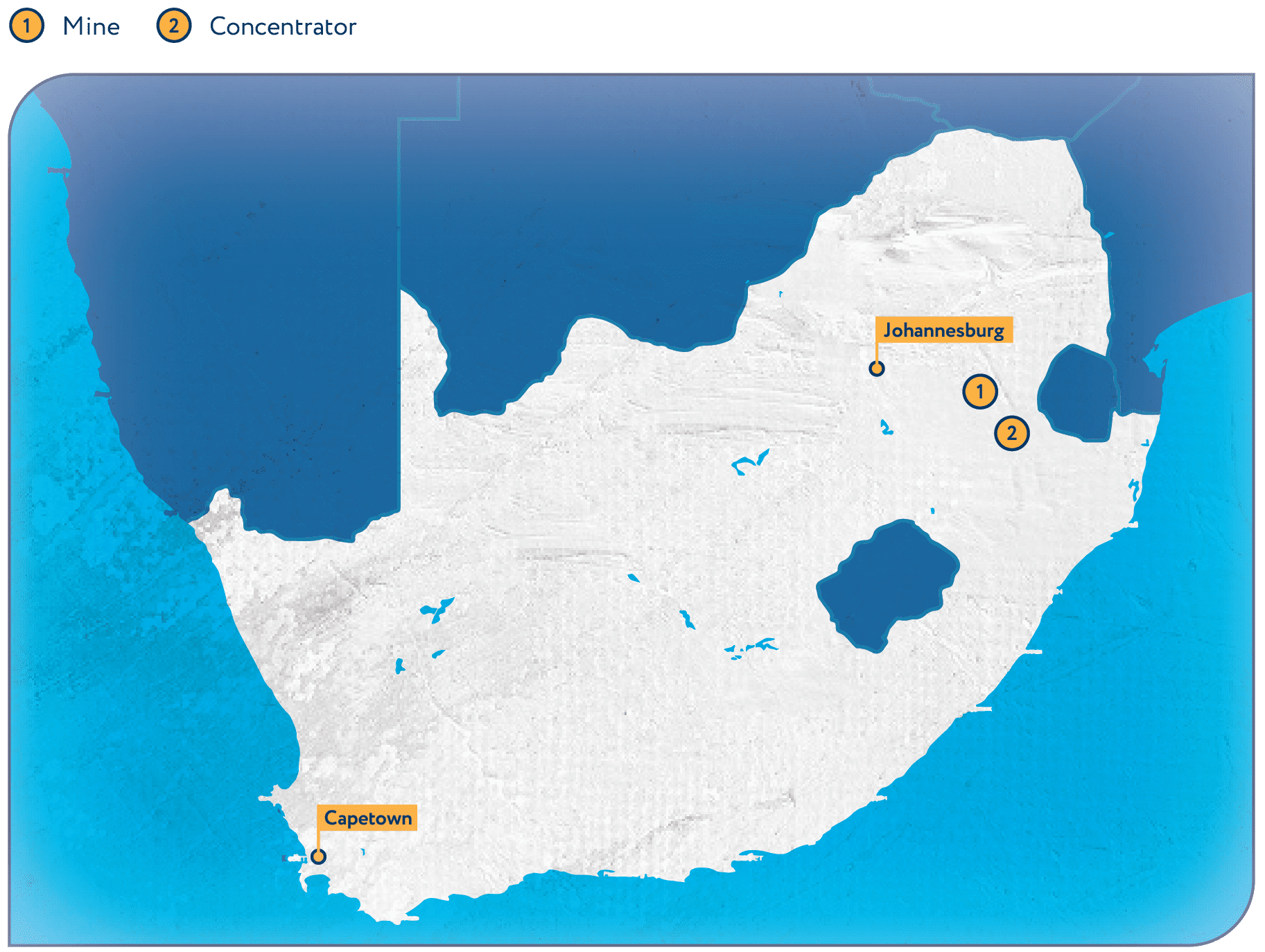 Concentration and smelting
Concentration facilities
Concentrator for ore mined in the main section, with installed capacity of 375 kt per month.
Concentrator for ore mined in the peridotite chromite section, with installed capacity of 250 kt per month.
The mined ore is processed at concentrators using the sulphide flotation technology, with the resulting concentrates then sold by Nornickel to third parties.
In 2019, Nkomati produced 6.5 kt of nickel (down 2% y-o-y), 3.4 kt of copper (up 12% y-o-y), 33 koz of palladium (down 1% y-o-y), and 14 koz of platinum (up 6% y-o-y) (attributable to the Group's 50% shareholding). The drop in nickel and palladium production and the increase in copper and platinum output were due to changes in the processed ore composition and the commencement of production ramp-down as part of plans to scale down production at Nkomati Nickel Mine during 2020.
Products:
Production volumes
Volumes based on the 50% ownership.
| Product (in concentrate) | 2017 | 2018 | 2019 |
| --- | --- | --- | --- |
| Nickel, kt | 8.0 | 6.6 | 6.5 |
| Copper, kt | 4.5 | 3.1 | 3.4 |
| Palladium, koz | 46 | 33 | 33 |
| Platinum, koz | 20 | 13 | 14 |